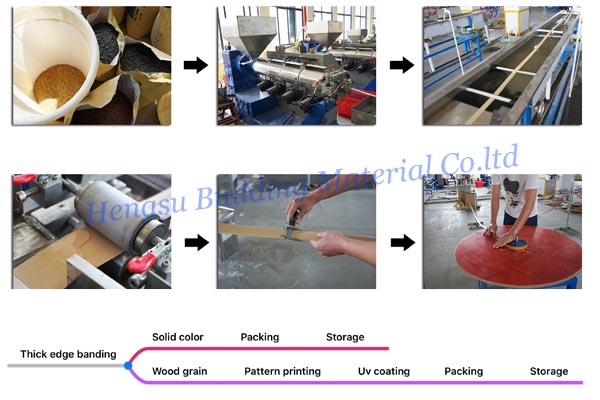 The edge banding is an indispensable part of the panel furniture. The existence of the edge banding makes the furniture more environmentally friendly, with smooth three-dimensional lines, and the dazzling colors are everywhere to show the owner's noble taste.
Hengsu has thick and thin edge banding. The edge band's thick is generally more than 1.0 mm thick. It is mainly used on the plate outside the furniture. If it is too thin, it will not protect the furniture when it collides. The outer edge of the edge band must be thicker, so that the edge banding of the furniture looks more three-dimensional. The thin edge banding is mainly used on plates that are not visible inside the furniture, such as drawers.
Furniture edge banding is an extruded sheet, We have PVC, ABS, acrylic materials 3D or PMMA  edge band strip. From the shape point of view, We have U-shaped edge-banding and a T-shaped edge profile.
As a manufacturer specializing in the production of furniture edge banding, Hengsu has four series edge banding : PVC series (PVC thin edge banding, PVC wood grain) Edge banding, PVC material edge banding, PVC high-gloss edge banding, PVC super matte edge banding), ABS series (AB plain edge banding, ABS wood edge banding), heterosexual series (hard rubber Strips, soft strips, soft and hard composite strips), acrylic series (pure acrylic edge banding, wood grain acrylic edge banding, two-color acrylic edge banding).
Now let us tell you that the process of thick edge banding is as follow:
mixing powder all raw material – granulation – thick edge extrusion – embossing – backing-Pattern printing – UV coating – packaging – storage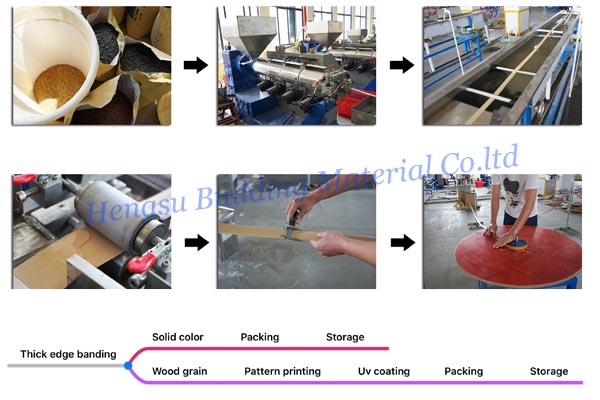 The process of thin edge banding is:
mixing – extruded sheet – composite finishing – sheet printing – sheet adhesive – sheet embossing – rewinding – sheet slitting – packaging ——Storage
Do you see why the production process of thick edge banding and thin edge banding is different? This is because the sheet extruded from the thin side is a large roll, and when it needs to be wide, it is cut on this basis. Thick edges can only be extruded according to actual size due to their relative thickness.
https://edginghengsu.com/wp-content/uploads/2019/06/Process.jpg
400
600
administrator
https://edginghengsu.com/wp-content/uploads/2017/08/oo.jpg
administrator
2019-06-11 03:09:39
2019-06-11 03:09:39
Hengsu Edge banding Processing